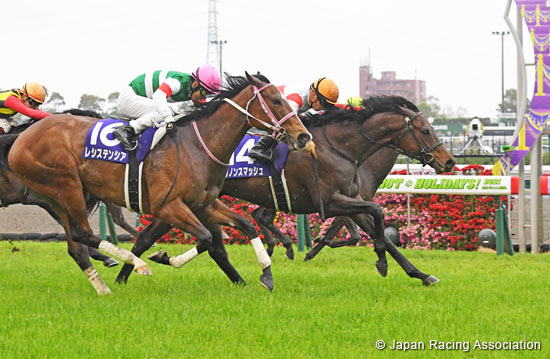 There was plenty of Grade 2 and Grade 3 action during the summer months in Japan, but come this Sunday (Oct 3), the autumn Grade 1 campaign gets under way with the Sprinters Stakes, to be held at its usual venue, Nakayama Racecourse, just outside Tokyo. The race was first run in 1967, and with gradual upgrades to its status over the years, it became a Grade 1 in 1990, followed by recognition as an international Grade 1 in 1994. The race is for 3-year-olds and up, and is run over 1,200 meters on the outer turf track at Nakayama, a right-handed course. Runners are allotted 57kg, with 3-year-olds, as well as fillies and mares, able to claim a 2kg allowance.
The last ten years have seen first favorites win five times, and 4-year-olds have won four times in that same time period, including the last two years. The last 3-year-old winner of the race was Aston Machan back in 2007. Unfortunately, there will be no overseas runners challenging this time around. Prize money and participation incentive money will be paid down to tenth place, with the winner receiving JPY130 million (approx. USD1.2 million). Record time for the race belongs to six-time Grade 1 winner, Lord Kanaloa, who won in a time of 1 minute 6.7 seconds in 2012, and is now one of Japan's top stallions, standing at the Shadai Stallion Station.
There are 22 nominations for a maximum 16 runner field in this year's Grade 1 Sprinters Stakes, but 3-year-old filly, Yoka Yoka, has already been withdrawn, having picked up an injury. Some of the lead up races to the top autumn sprint have included the Grade 3 CBC Sho, run over 1,200 meters at Kokura in July, the Grade 3 TV Nishinippon Corp. Sho Kitakyushu Kinen, run at Kokura over 1,200 meters in August, and perhaps the most reliable trial race, the Grade 2 Sankei Sho Centaur Stakes, run at Chukyo over 1,200 meters in September.
The 55th Grade 1 Sprinters Stakes will be Race 11 on the Sunday card at Nakayama, with a post time in Japan of 15:40. Final declarations and the barrier draw will come out later in the week.
Here's a look at some of the runners expected to attract attention in the race:
Danon Smash: The 6-year-old by Lord Kanaloa is back on a mission here, looking to be just the sixth horse in Japanese racing history to win both the Grade 1 Takamatsunomiya Kinen and the Grade 1 Sprinters Stakes in the same year, and at the same time bounce back to his best after his sixth place finish in the Grade 1 Chairman's Sprint Prize in Hong Kong in April, his last race. Trainer Takayuki Yasuda does fine work with sprinters (Lord Kanaloa and Curren Chan to name probably his best ever two), and he's confident of a big run from Danon Smash this time. "It was hard for him last time on his trip overseas, with only a short time between races. On his return to Japan, he quarantined at Miki Horseland Park, and after that had a break at K I Farm. He's the type that's best going into a race fresh, as was the case with the Takamatsunomiya Kinen, and so it's similar to that this time too," said the trainer. Jockey Yuga Kawada is reunited with Danon Smash for a big effort here.
Resistencia: Winner of the Grade 2 Sankei Sho Centaur Stakes last time, the 4-year-old filly by Daiwa Major is looking to turn the tables on Danon Smash, after finishing second to the latter in this year's Grade 1 Takamatsunomiya Kinen. Trainer Takeshi Matsushita was pleased with the filly's win last time. "She came out of her last race well and soon got her appetite back, so within a week she was back to her usual self. In that last race, I didn't think she'd be able to get a forward position like she did, but things went well, and to her credit, when she hit the front, she absorbed the pressure right up to the end. I could take a lot from that race," commented the trainer. Jockey Christophe Lemaire guided Resistencia to victory last time, and is set to take the ride again, in his bid for a hat-trick of wins in the Sprinters Stakes.
Pixie Knight: The improving 3-year-old colt is showing a lot of promise, particularly now he's been dropped back in distance. In his last two starts, both over 1,200 meters, he's just been off the pace early on and produced with good late runs at the end of those races, and in the Grade 2 Sankei Sho Centaur Stakes last time, he sounded a real warning shot to Resistencia. Finishing the better of the pair, he just had to settle for second as the winning post came too soon. "He's just had five days at the farm, given the short time between races. In the CBC Sho, he didn't go off in front, and last time too the same tactics were used, and he seems to run very well in this way," commented trainer Hidetaka Otonashi. Pixie Knight is a son of Maurice, and he'll be having his first run at Nakayama this time. Yuichi Fukunaga is expected to take the ride, and he has just registered his 2,500th JRA win, just the fifth ever JRA jockey to do so.
Mozu Superflare: Another runner for trainer Hidetaka Otonashi, who has never won the Sprinters Stakes, the American bred Mozu Superflare is now a 6-year-old, and she tuned up for this race with a third place finish in the Grade 3 TV Nishinippon Corp. Sho Kitakyushu Kinen over 1,200 meters at Kokura in August. The trainer stated: "She finished second last year in the same trial race as this year, carrying the same weight. She might be six years old now, but doesn't really show it. She's had a slight swelling on her leg, so we've kept her at the stable this time. She's her usual self though, and the rotation has been the same as last year." Mozu Superflare is by Speightstown, and was second in the Sprinters Stakes in 2019, as well as a winner of the Takamatsunomiya Kinen in 2020.
Kurino Gaudi: A fairly consistent, if not unlucky sprinter, Kurino Gaudi will be back for another try at the Sprinters Stakes this year, after an encouraging third in his prep race, the Grade 2 Sankei Sho Centaur Stakes over 1,200 meters at Chukyo in September. His trainer, Norio Fujisawa, felt that he wasn't quite at his best last time, and that there's room for improvement. "While at the farm during his break, he had a bit of a stomach ailment, and in his last race, he wasn't able to get in his usual big strides at the end. Nevertheless, he still put in a good run, which was encouraging as we look to this next race," said the trainer. It's also to be remembered that Kurino Gaudi passed the post first in the 2020 Takamatsunomiya Kinen, only to lose the race in the stewards' room. Connections will be hoping for a change of fortune for the 5-year-old by Screen Hero.
First Force: The 5-year-old is an interesting challenger here, and on some lines of form, he wouldn't be without a chance. Add in his Summer Sprint Series title, by finishing first (winning the CBC Sho in record time) and second in his last two Grade 3 races, and he might be the one at a price to consider. Recent comments from the stable were: "He couldn't quite go with the winner in his last race, but he showed his ability when winning the CBC Sho, his first graded win. He can act on any going, and he should go well at Nakayama with the rise in the homestraight." The son of Lord Kanaloa faces his biggest test this time, but he looks to have what it takes to play a part in this race too.
Meikei Yell: As the only 3-year-old filly remaining among the nominations, Meikei Yell will be the bottom weight in the race, carrying 53kg. With regular jockey Yutaka Take due to ride in France on Arc de Triomphe day, Kenichi Ikezoe looks set to take the ride on Meikei Yell. His first contact with the horse was in recent work, and the jockey said, "She's a horse with plenty of power and speed, but at the same time easy to control. It's been good to ride her out a week before the race." Meikei Yell won her first two career races over 1,200 meters as a 2-year-old, and most recently finished seventh, when favorite, in the Grade 3 Keeneland Cup at Sapporo in August, her first race in four months.