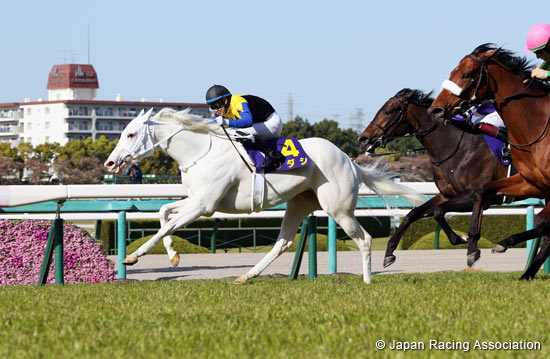 Hanshin Racecourse west of Osaka hosts the Grade 1 Shuka Sho this Sunday as renovations continue at Kyoto, the filly classic's usual venue. The Oct. 17 running will be the Shuka Sho's 26th. The 2,000-meter turf event is the final race in Japan's triple crown for 3-year-old fillies and 16 of the 22 nominees are expected in the gate.
The filly triple crown is not on the line this year as it was in 2020, when Daring Tact came through to cap the classic trio with a spotless 5-for-5 record. Excitement will still be high, however, with a lineup sporting bold new blood, strong competition and the pure-white star Sodashi.
And a long rivalry brings added interest as Sodashi and Uberleben meet once again. Sodashi, winner of both the Grade 1 Hanshin Juvenile Fillies and the Grade 1 Oka Sho (Japanese 1000 Guineas) will meet Yushun Himba (Japanese Oaks) winner Uberleben for their fifth time. Sodashi is currently out in front at 3-1.
The spotlight won't linger on the Grade 1 champs. Promising standouts include Oka Sho third-place finisher Fine Rouge, and the second, third and fourth-place finishers in the Japanese Oaks – Akaitorino Musume, Tagano Passion and Art de Vivre. In addition, there's Andvaranaut, just off her first graded-stakes victory and turning heads.
Races are run to the right at Hanshin, the turf 2,000-meter starts before the grandstand and the Shuka Sho will take place on the inner course. The first turn is 325 meters from the gate and the early pace tends to be subdued. Bids from far off the pace are less successful but horses with early speed and the stamina to conquer the homestretch hill tend to do well.
Though the venue change this year will make previous results less relevant, the Shuka Sho top three finishers over the last decade have tended to be popular at the betting windows. That said, the favorite only won three times and made the top 3 four times. Two of the top 3 picks have finished in the top three only once in the last decade and double-digit picks were in the top three only three times in the same period.
The Shuka Sho is the No. 11 race on the Hanshin Sunday card and post time is set for 3:40 p.m. Each filly will carry 55 kg. First place is worth JPY100 million.
Here's a look at the likely popular picks.
Sodashi: Star Sodashi returned from the first loss of her career, an 8th in the Oaks, to score a more-in-keeping win of the Grade 2 Sapporo Kinen on Aug. 22. Though she ran under only 52 kg, it was a strong win nonetheless, amid a largely male field, older horses and G1 winners. More importantly, it was won over her first start at 2,000 meters, her longest victory yet, and one that lifted the believed jinx on Kurofune progeny's inability to win at anything over and including 2,000 meters. Unlike Sapporo, with its flat stretch and the type of grass Sodashi is said to prefer, Hanshin has a hill to conquer just before the finish line and Sodashi will have 3 kg more on her back.
Andvaranaut: With three wins and three seconds from six starts, this daughter of King Kamehameha leapt into the limelight when she took on and won her first graded-stakes race last out on Sept. 19, just five months following her debut. The Kansai Telecasting Corp. Sho Rose Stakes, a Grade 2 over 2,000 meters at Chukyo, handed her a ticket to the Shuka Sho. Racing from sixth position, Andvaranaut clocked a blistering field-best 33.8 seconds over the final three furlongs. Though both her starts over 2,000 meters have been at left-handed tracks, she has done well at Hanshin as well and, with regular rider Yuichi Fukunaga expected up on Sunday, should be in good hands.
Fine Rouge: Previously raced over nothing longer than a mile, Oka Sho third-place finisher Fine Rouge took on the Japanese Oaks and disappointed in 11th place. In the Shion Stakes (G3, 2,000 meters) on Sept. 9, she returned to the track after nearly four months and displayed fine form to top a field that included numerous Shuka Sho hopefuls. Based at Miho, this will be only her second long haul westward since the Oka Sho and how she weathers the trip should be noted on raceday. Current jockey leader Christophe Lemaire, who brought the filly home a winner in both his previous rides, is expected in the saddle.
Akaitorino Musume: The blue-blooded Akaitorino Musume heads, as planned, straight from the Oaks to the Shuka Sho. Fourth in the Oka Sho, second in the Oaks, the daughter of triple crown team Deep Impact/Apapane will be given only her second start over longer than a mile. Looking good in trackwork and already having proven she can handle the trip from Miho, the Sakae Kunieda-trained dark bay looks more than capable of bringing the trainer his third win of the Shuka Sho.
Art de Vivre: With a 5-5 from the filly triple crown first two legs, Art de Vivre returned from the Oaks with a run in the Rose Stakes. It was her first time over 2,000 meters, her first race in almost four months, and she failed to move decisively at a key point. Nonetheless, Art de Vivre finished third, 0.3 seconds off the winner Andvaranaut. The King Kamehameha filly has struggled to maintain condition and was far below her winning debut weight of 446 kg for her next three starts. Last out, at 430 kg, her weight was up and maintaining that will be key. Art de Vivre has matured mentally, is reported to have recovered well from her last start and, shipping from Ritto, should have ample chance.
Uberleben: The striking black daughter of Gold Ship won her debut in June 2020 and only missed the top 3 once in her next six starts, all of them at the graded level. Third in the 2-year-old Grade 1 Hanshin Juvenile Fillies, Uberleben skipped the Oka Sho and scored her second win in her next G1 bid, the Japanese Oaks at Tokyo. She returned to her Miho later than expected and, as of last week, was showing improvement in work but was reported not quite at her best though this week's fast work reports may be more promising. Trainer Takahisa Tezuka says he believes her talent will carry her and, with jockey Mirco Demuro expected in the saddle, there's talent aplenty. If Demuro can ace the Shuka Sho, he will join Yutaka Take, Yuichi Fukunaga and Christophe Lemaire in having won all seven of the JRA Grade 1s open only to 3 year olds.